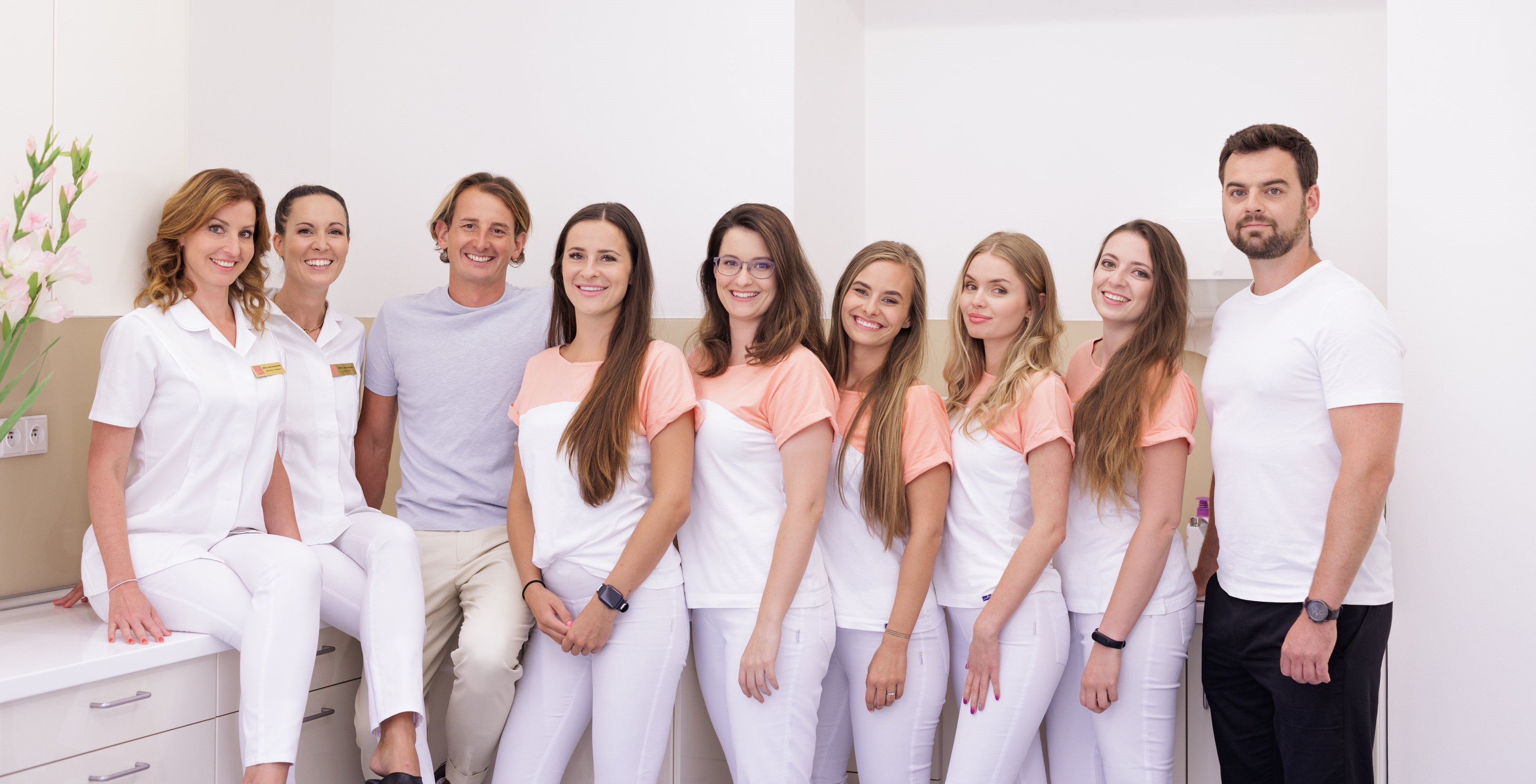 We founded our family business as siblings Jana and Pavel in 2012 in Vokovice, Prague. Before we joined forces in the project, Jana was a fresh graduate of a postgraduate specialization in orthodontics and Pavel was a businessman in the production of chemical products. Both of us have had a naturally positive relationship with natural sciences and especially medicine since time immemorial. We each have different professional backgrounds. The first years of working together at Perfect Smile were focused on proper healthcare, analyzing the environment, building strong relationships with reliable business partners, setting up functional communication with patients, setting up client service, expanding the patient base and last but not least, actively spreading public awareness of the possibilities and benefits of today's orthodontic treatment.
In 2014, we decided to move from a small space to a larger one, increasing our capacity to treat patients. This plan was gradually implemented in the picturesque centre of old Prague, just a few steps away from the Old Town Square. Thanks to the higher capacity of the new premises, 3 dental offices, a consultation centre and a back office were gradually put into operation.
Orthodontics is our main specialty. The primary goal is to help patients achieve a healthy and beautiful smile by straightening their teeth with the advanced approaches and technological possibilities of today's braces. Health and beauty care is a societal trend that we fully reflect and offer services to patients who want to improve their appearance with a perfect smile, while also improving their oral health in the long term, as well as those who are facing serious health problems that a malocclusion can cause, fundamentally improving their quality of life and gaining new self-confidence. We also provide patients with in-office dental hygiene and in-office teeth whitening as complementary health services.
We actively seek out new technologies and approaches to implement in our practice. Especially at foreign and local professional congresses and seminars. Every new product introduced to the market, whether technological or methodological, is first examined, tested and only after a thorough evaluation of the benefits and risks, is it included in the range of health services or work procedures. In many respects, we are faithful to the unrivalled and conservative approaches of the orthodontic field and balance this with the introduction of functional "hot" innovations. Since the beginning of the company's existence, the patient has been our valued client whose wishes, opinion and requirements will always be heard and respected, unless they are downright contrary to the professional practices of the field.
Because "great things are done by a team, not just by individuals", our work team is the primary investment. We care about good relationships, job satisfaction and well-being. We provide industry training and career development. The best of our employees are progressively promoted to key positions. Their numbers in the workplace reflect the need for a combination of rest and work leading to focused activity with maximum concentration on patient care. Employees have the opportunity for refreshments, free communication together, a long lunch break, and are motivated to participate in sports and a healthy lifestyle. We naturally provide them with ample days off, shorter working hours and refuse to include overtime as a standard.
This philosophy helps us to work together and enthusiastically to care for the patients who entrust themselves to our care.
In the form of internships for medical and non-medical health care professionals, we encourage hands-on training in the field and also offer support for science and research, literature and other thematic projects. We are associated with well-known healthcare providers in the context of disciplinary and interdisciplinary cooperation in the treatment of patients.
If you're looking for a path to a perfect smile, you've come to the right place.
Take a look at the Perfect Smile® clinic premises
Introduction to the field of orthodontics
Orthodontics is a specialized medical dental field that deals with the causes, prevention and, above all, treatment of various orthodontic anomalies. Orthodontic anomalies are defined by their degree of severity as the incorrect position of individual teeth, groups of teeth or jaw bones. Orthodontic treatment aims to correct these conditions in order to achieve the best possible aesthetic and functional result.
In most cases, orthodontic treatment of patients aged 12 years and older uses fixed braces or Invisalign braces, which also have fixed elements (attachments). In the treatment of children under 10 years of age with mixed dentition, laboratory-made removable braces or the Invisalign First system are used. In some cases, collaboration with an oral surgeon or implantologist is required for proper treatment with braces. Only very severe orthodontic anomalies should be treated in collaboration with jaw surgery.
However, orthodontics is an exceptional field due to the fact that it primarily works with the tissues that nature has created, without the need for any invasive surgery or implantation of artificial elements into the body. By applying controlled external forces through braces, we work with the teeth and their roots, jawbones, ligaments, gums, and slowly achieve the ideal position of the teeth in the arch and thus a perfect smile and better facial profile.
Thus, we can improve the perfection of the smile and face without the need to implant any foreign materials into the body, unlike other dental disciplines such as prosthetics (staples, veneers) or implantology, and it is also a significantly cheaper solution.
Orthodontics is also of great health importance in terms of preventing tooth decay, gum disease, functional eating disorders (biting, chewing, swallowing), breathing disorders, snoring, speech and pronunciation.
The smile is our calling card.