Invisalign – an easy way to a beautiful smile – SPECIAL OFFER
Invisalign are a true revolution in the field of orthodontics. These braces straighten your teeth in a very discreet manner. There are no restrictions during the treatment as regards food and dental hygiene is also less complicated than in the case of fixed braces. What is the biggest advantage of Invisalign? They are discreet and you can take them out any time, for up to 2 hours a day! Join three million patients worldwide who are enjoying their beautiful smiles thanks to Invisalign.
How do Invisalign work?
The braces are made of medical thermoplastic material developed specifically for the Invisalign system. First, a tooth imprint will be made for you on the basis of which a full set of foil braces, the so-called aligners, will be produced. You will then be putting on new braces every two weeks, which will gradually straighten your teeth. This way, you will soon be enjoying a beautifully straight smile. Read MUDr. Jana Fendrychová's article in which she details the nature of Invisalign and explains the entire course of treatment using this method.
Benefits of Invisalign
Dental hygiene during the treatment stays exactly the same as before. Just remove the aligners before cleaning your teeth – it's as simple as that. Unlike with fixed braces, there are no restrictions to your normal eating habits.
Check-ups are usually required every three months and you will therefore spend considerably less time at the orthodontist's office.
You will not have to worry about unpleasant situations requiring immediate specialist help (e.g. a loose bracket or wire, etc.). When on your travels, you will be absolutely safe.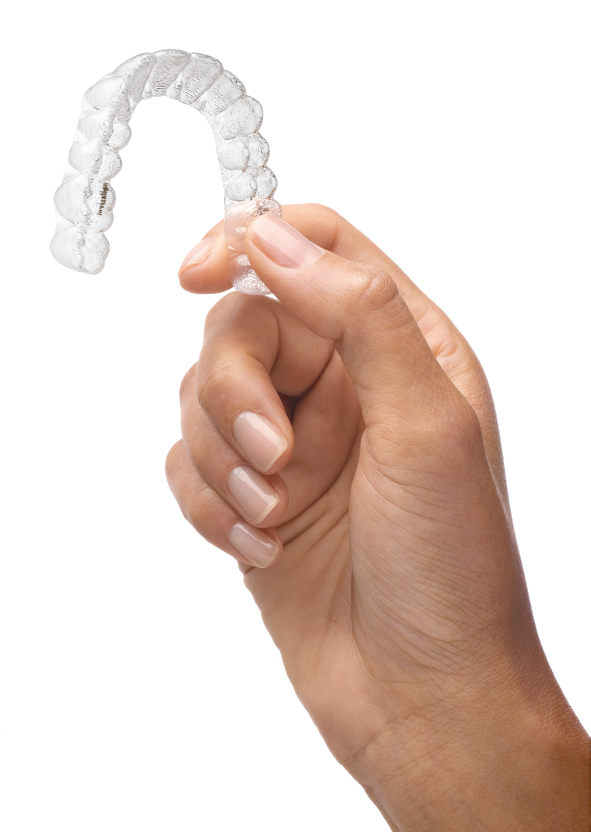 ---
What does the treatment entail?
At your first consultation with us we will check whether Invisalign aligners are a suitable treatment method for you. These braces can handle a wide range of orthodontic problems, such as crowded teeth, wide gaps between teeth, deep or wry bites. Unfortunately, this method cannot be used for treating all defects, especially for more complex ones.
If we decide that Invisalign can help you on your way to a beautiful smile, we will develop a 3D virtual treatment plan especially for you that will allow us to see how your teeth will look when the treatment is complete. Every two weeks you will replace your custom-made aligners with new ones, allowing your teeth to gradually adapt to the planned position. The overall treatment time varies from patient to patient, but is comparable to that of metallic braces.
Invisalign are also suitable for teenagers. They are specially designed to balance the development of canines, second premolars and molars. With Invisalign TEEN you get up to six spare aligners in case they get lost.
Watch a video about Invisalign and read stories of our satisfied patients:
Foil braces price list
The following prices for orthodontic treatment are ALL INCLUSIVE. They include everything from the planning and the start of the treatment with braces, through regular check-ups including material replacement and frequent dental hygiene, to the end of the treatment, the removal of fixed braces followed by the fixing of retention devices and associated check-ups. High standard of our services is absolutely essential.
Braces type
Treated area
Price
Invisalign Lite

Invisalign deluxe invisible braces – custom-made, suitable for minor malocclusions in adolescents and adults

1 Jaw
58 990 Kč
Invisalign FULL or TEEN
Invisalign deluxe invisible braces – custom-made, suitable for moderate malocclusions in adolescents and adults.
Both jaws

99 690 Kč
All prices include VAT, we accept debit cards and Sodexo, Edenred, Ticket Medica, Ticket Multi, e-Ticket voucher, Flexipass, Benefit+ as well as the Ticket Benefits Card.